A-Café. Anarchist Sunday Brunch
A-Café. Anarchist Sunday brunch — a self-organized place to meet, learn and find like-minded people, that happens
once a month, every second Sunday. There will be a kids' space and dogs are welcome.
Once in a month
A-Café is taking place every second Sunday in the month-
From 1 pm, in the Meuterei (Zollschuppenstraße 1, Plagwitz, Leipzig)
Brunch
We will provide hot drinks (coffee and tea), but ideally those who want to join us should bring some vegan food to make our "menu" diverse and DIY as much as possible.
Inputs
Most of the time after Brunch there is some input, some presentation about an interesting issue or workshop or whatever else we think is interesting for people. You are very welcome to bring your ideas!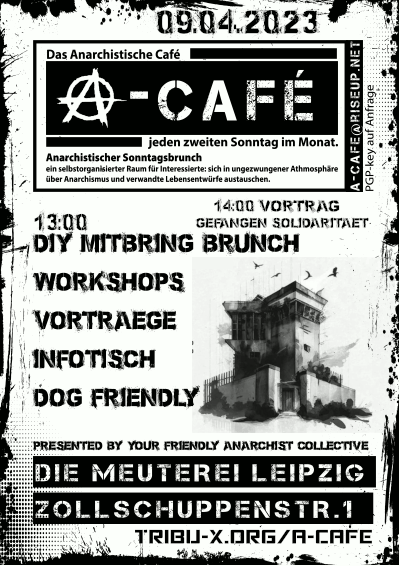 A-Café. Anarchistischer Sonntagsbrunch / Anarchist Sunday Brunch. Organized by your friendly anarchist collective Jeden zweiten Sonntag im Monat / Every second Sunday in the month. Wann/When? 12.02.2022 Wo/Where? Meuterei (Zollschuppenstraße 1) Ein selbstorganisierter Raum für Interessierte: sich in ungezwungener Athmosphäre über Anarchismus und verwandte Lebensentwürfe austauschen. Jeden zweiten Sonntag im Monat (09.04.2023) Organisiert von deinem freundlichen anarchistischen Kollektiv. Ab 13:00 Uhr: Der DIY-Mitbring-Brunch. Kaffee und Tee werden von uns gestellt. Um ein buntes DIY-Buffet zu ermöglichen/ anzubieten, freuen wir uns über von euch mitgebrachte diverse vegane Köstlichkeiten. Falls ihr Lust habt, eure Musik mit uns zu teilen, bringt