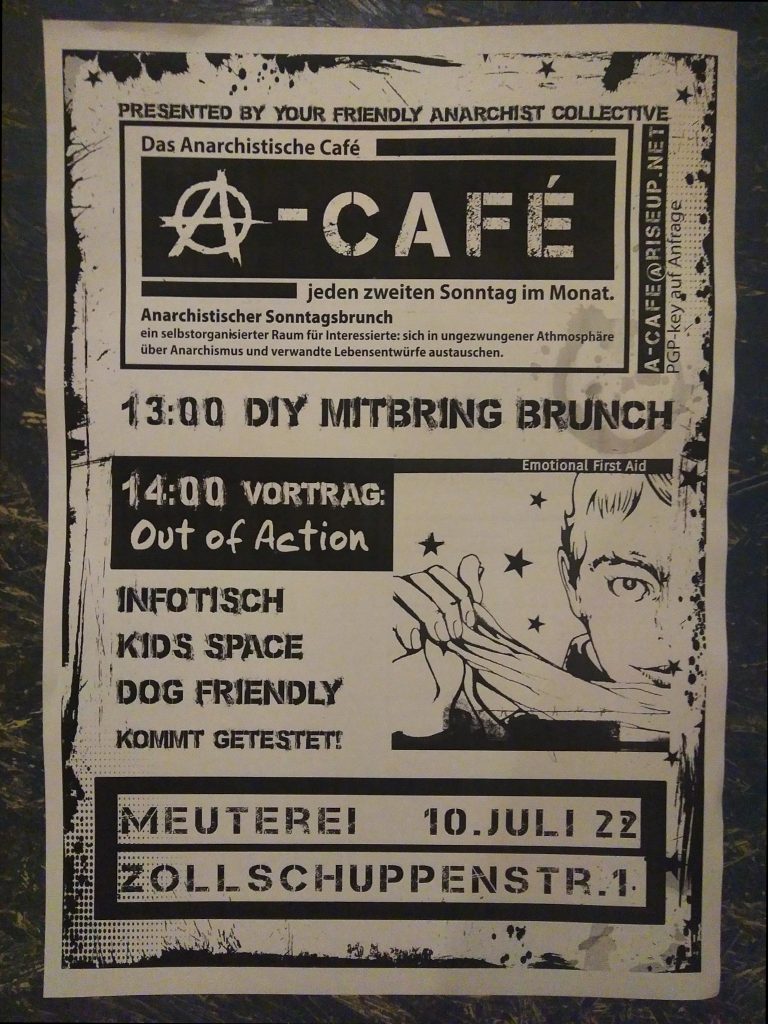 NEW OPENING!
A-Café. Anarchist Sunday Brunch.
Organized by your friendly anarchist collective. Every second Sunday in the month.
When? 10 July 2022
Where? Meuterei (Zollschuppenstraße 1)
a-cafe@riseup.net
A-Café. Anarchist Sunday brunch — a self-organized place to meet, learn and find like-minded people, that happens once a month, every second Sunday.
There will be a kids' space and dogs are welcome. Please come tested.
Schedule

13.00 — DIY-Brunch.
Organizers will provide hot drinks (coffee and tea), but ideally, those who want to join us should bring some vegan food to make our "menu" diverse and DIY as much as possible. If you want to share some music – bring a USB with files. There will also be an info table. You can share news, get to know each other, or read some zine while eating.

14.00 – Topic of this month: Out of Action "It hits one of us – and that means all of us! Repression is often part of everyday life in the activist context. The stress that is triggered by police or nazi violence, ongoing court trials and also by permanent stress due to constant defensive struggles, exhausting plenums, conflicts in our (political) groups or just by our own
experiences of discriminatory conditions can have serious consequences.
Out of Action


Out of Action is a germanwide anti-repression structure that offers emotional first aid from activists for activists, conducts relief talks, supports reference groups in the preparation and follow-up of actions, supports specific stressful situations (f.ex. upcoming imprisonment, etc.), and provides support for activists. With a series of workshops on different topics we try to help our structures with psycho-emotional support and education on stress-relevant topics (how can I recognize that I am emotionally overwhelmed? How can we support each other in our political groups?
What do we have to consider for a common action in order to prevent fainting experiences at best? What is a traumatic experience? How can we build empowering structures? etc.)
In the info event we want to introduce our structure and way of working and then concretely deal with strategies to cope with stressful situations. Come alone or with your beloved people or affinity persons. We are happy to meet to you."
Your friendly anarchist collective.